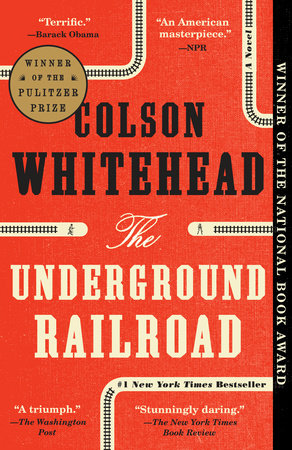 The Underground Railroad was a gift from A, and I'm fairly sure she said she chose it because it had won a load of prizes. It also fits in well with other things I've read — books like The Floating Theatre and Sugar Money. I was a bit worried, because of all the prizes, that The Underground Railroad was going to be dense and difficult to read, but it pleasantly surprised me on that score. I found the early chapters very intriguing, especially when the narrative shifted away from Cora's perspective to that of a slave-catcher called Ridgeway. It took me way longer than it should have to realise The Underground Railroad was set in an alternate history, and I admit I don't know enough about the details of the America of this period to be sure what pieces are off the rails, if you'll excuse the pun.
Cora remembered Caesar's words about the men at the factory who were haunted by the plantation, carrying it here despite the miles. It lived in them. It still lived in all of them, waiting to abuse and taunt, when chance presented itself.

The Underground Railroad, Colson Whitehead
I can see why people liked The Underground Railroad, especially the first third or so. It reminded me of The Handmaid's Tale in the way it built the story out of both things that did happen and things which didn't. Certain things that happened to Cora also reminded me of Offred — she was dehumanised in ways that were probably fictional, but felt like they could have been real.
Unfortunately, the middle of the book really let it down, as far as I was concerned. I expected to see more of Ridgeway after we got a taste of his perspective, and I was disappointed he was featured for such a limited amount of time. As for Cora, it's perfectly understandable that a slave character would have limited agency in the society we're presented with, but there are long sections of the book where Cora doesn't do anything, and those didn't really push the story forward in any satisfying way. Even when Cora does take action, it didn't have much of an emotional impact on me as a reader.
The afternoon stretched the shadows like taffy…

The Underground Railroad, Colson Whitehead
The end picked up, a bit, in that it was certainly interesting to read about the Valentine Farm, and wonder how much of it was based on true historical fact. Sadly, I didn't really connect to any of the characters. I'd recommend this to readers who enjoyed The Handmaid's Tale because I do think it has some interesting similarities in style, though I have to admit I think The Handmaid's Tale is probably the better book.
Next, I'll be reading The Fandom by Anna Day.