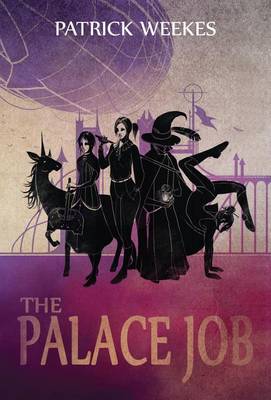 It seems that 'fantasy heist' is slowly becoming a subgenre, or perhaps I'm just slowly becoming aware of its existence. The Palace Job is the third fantasy heist I've read, and sadly is also the one I like least. It's not a bad book, by any means, it's just that The Lies of Locke Lamora and Six of Crows are both excellent, so The Palace Job had a lot to live up to.
"Word on the street says you've taken down lot of rich bastards."

"Well, the poor bastards don't have much money, or any challenging safes."

— The Palace Job, Patrick Weekes

I enjoyed a lot of things about Patrick Weekes' writing. The Palace Job is frequently funny, and he does some interesting things with perspective and the main character not speaking in the opening section of the book. Both the beginning and the ending were engagingly written and fast-paced, though I did have a little trouble visualising the more complicated action scenes. I can appreciate what Patrick Weekes was trying to do by giving the reader perspectives outside of those involved in the con, but I didn't particularly enjoy those sections.
Pyvic was tall, which had been a disadvantage in the war, and fast, which was an advantage almost anywhere.

— The Palace Job, Patrick Weekes
Where The Palace Job fell down for me was in the middle section, where Loch was getting the team together, and while they were planning. I've no objection to romance in my fantasy heists when it's done well, but this seemed shoehorned in. Everyone seemed to be getting together, without very much justification as to why or how or when, and they read a little like teenagers who were more interested in their love lives than the con they were trying to pull off.
The magic in The Palace Job is a lot more fantastical than I'm used to in this kind of novel. For someone else, that may not be a problem, but I found Ululenia the Unicorn a little over-the-top. I'd recommend this to people who found Scott Lynch and Leigh Bardugo to be too bleak.
Next, I'll be reading Geek Love by Katherine Dunn.