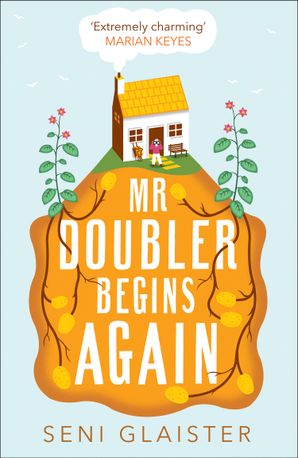 Although Mr Doubler Begins Again is about an elderly man, it feels to me like a Bildungsroman. Mr Doubler is learning how to be himself, a better version of himself, after the loss of his identity as a husband. The rest of the characters are similarly adapting to new stages in their lives, whether that's a husband being put into a care home or retirement from a rewarding line of work. It's very cohesive, without seeming repetitive.
But Mrs Millwood thought he was kind and brave. Doubler wondered if it might be possible to become those things just through her belief in him.

— Mr Doubler Begins Again, Seni Glaister
I was talking to Nickie — actually before I read this book — about what you call a love story when it isn't a capital-R Romance, and we talked about Bridget Jones's Diary and how it's actually about discovering a life outside the very narrow margins of the fall in love, get married, live happily ever after story that we're familiar with. Mr Doubler Begins Again feels like it fits the same criteria: it's a novel about what happens after (long after) the happy ending. There is a love story, too, which is simultaneously integral to the plot — the book doesn't really get good until Mrs Millwood is introduced — and yet ends in such a way as to feel superfluous to Mr Doubler's character development.
Apart from feeling like the very beginning was trying a bit too hard, I really enjoyed Mr Doubler Begins Again, and I'll definitely be keeping an eye out for anything else Seni Glaister writes or has written. I'd recommend especially to people who enjoyed films like The Best Exotic Marigold Hotel, Calendar Girls and The Intern.