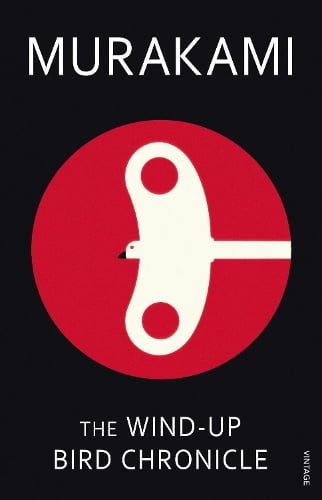 My first note for The Wind-Up Bird Chronicle is 'Michael likes such weird things. Why is weird good?'. It's a note that hints at a lot of my feelings towards the story as a whole. It's not that I dislike weird, but I don't think I find it as enchanting as other people do. Michael described the unpredictability of Murakami as being like a staircase that turns into a slide beneath your feet, and you just get swept away for the ride. That metaphor doesn't quite work for me.
In the early pages of The Wind-Up Bird Chronicle, my problem was mainly that I didn't trust Murakami. The story was unpredictable — and as such, I felt no certainty that it was ever going to be wrapped up in a satisfying bow. I expected it to be weird for the sake of being weird. That's probably not quite fair, because Murakami does seem to be following some kind of logical pattern, it's just that the pattern isn't always (or ever) clear to me as a reader.
To tell you the truth, my sister says that this will be a longer story than it seemed at first.

— The Wind-Up Bird Chronicle, Haruki Murakami
For me, The Wind-Up Bird Chronicle was not as weird as Geek Love. The people seemed closer to being real — although, as soon as I said that, I thought of several examples of characters who didn't. The world is also more 'normal', with weirdness happening only at the edges.
Like Island (also recommended by Michael), The Wind-Up Bird Chronicle did take me back to my days as an English literature student. There's a decent essay to be written on the theme of pain and numbness, I'm sure.
I'm no closer to knowing whether I really enjoyed The Wind-Up Bird Chronicle, but I can say that it's very different to anything else I've read.
Next, I'll be reading The Lies of Locke Lamora by Scott Lynch.