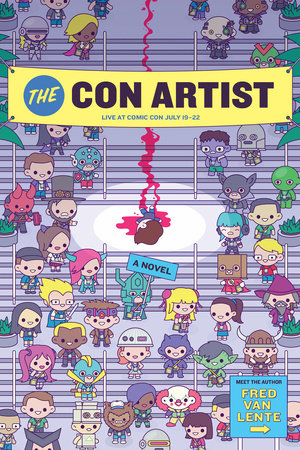 I don't often read crime fiction, I tend to listen to audiobooks, but I was intrigued by The Con Artist both because of the setting (San Diego comic-con) and the blurb. Not only does The Con Artist contain illustrations, but those illustrations contain clues to the detective story! That sounded like a neat gimmick, so I was excited to give it a go.
Catching a ride from the airport with one of my own characters would ordinarily qualify as strange, except that fiction starts devouring reality pretty much as soon as you step off the plan at San Diego International Airport during the week of comic-con.

— The Con Artist, Fred Van Lente
I don't really know what to say about the plot of The Con Artist. It was… fine. It took a while to get going, but I did feel quite caught up in the narrative once the actual crime was committed and the detection started. Sadly, I felt kind of let down by the clues – both illustrated and otherwise. The clues in the drawings are there, but are often so hidden as to be difficult to spot even once you know what they are. Similarly, the clues in the narrative don't jump out as clues until you already know the part they're going to play. I didn't feel like the red herrings were particularly well handled. The narrative called attention to them, so they served as distractions, but there was no other reason for them to exist.
The characters were similarly not quite working for me. I think they were probably meant to be 'larger than life', to fit the comic-con theme, but as a result none of them felt quite real. Even at emotional moments, I just didn't feel that impact. I guess my overall feeling is that The Con Artist was interesting enough, as contemporary fiction, but it wasn't a very strong detective story.
I've never been to a convention, so maybe The Con Artist works better if you recognise the world its describing. I doubt it, because even as someone who hasn't been to a con, I occasionally felt like I was having things explained to me that I already knew.
Next, I'll be reading Read Seas Under Red Skies by Scott Lynch.