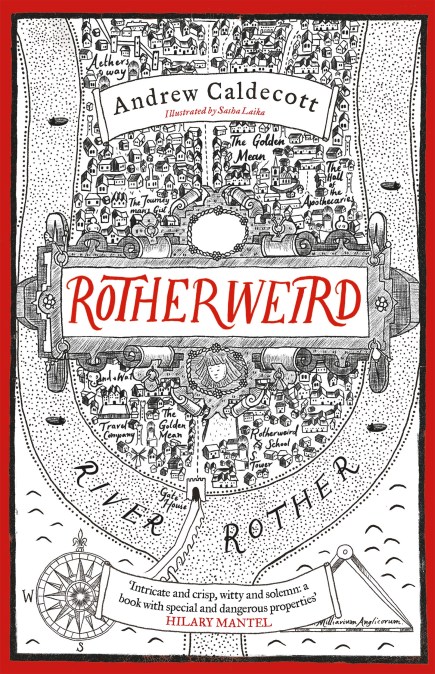 Despite lockdown, my book club has valiantly made the switch to Zoom so that we can still talk about what we're all reading. The meetings are different than normal, and I think the first (for Empire of Sand) was slightly hampered by it having been so long since we'd read the book, but they're still fun and I genuinely look forward to them when I know they're coming up. Which makes it extra great that we're having them once a month now!
Books reflect interests; interests inform personality and personality decides a course of action.

Rotherweird, Andrew Caldecott
Rotherweird was described as 'English folk horror', which made me think I'd either love it or hate it. I like folk stories, but as discussed in my review of Dread Nation, I don't usually read horror. As it turns out, I didn't love or hate Rotherweird. It was fun and reading it definitely cheered me up more than Scottish Traditional Tales, but it's not going on my favourites list.
My favourite bit was the coracle race, which I thought was a really cool adventure which also showed a lot of the different characters' personalities. It reminded me a lot of a Goblin Emperor fanfic that I read by big sunglasses: Passage, which also features a boat race and lots of great exploration of character.
This was nothing compared to the boating he'd done on a docile river, heavily supervised, as a child. He grinned back at her. "Yes, Captain."

After a few minutes he was in a good rhythm, and when they launched around the Maratha's curve, he could tell they were improving.

Passage, Bigsunglasses
There was no character development as such in Rotherweird. The characters were more… quirky, almost caricatures, with no sign that they were going to grow into anything else. Which is fine, because the book was more about the mystery than about the characters' interior lives. What struck me as odd was how passive the characters were. Oblong, in particular, seemed curiously willing to obey the rules and not investigate the central mystery. Which is not exactly what one is used to in fiction!
Anyway, Midsummer Day features the most dismal act in the academic calendar: prize giving, an exercise that puffs up the already conceited and depresses everybody else – and I include the parents.

Rotherweird, Andrew Caldecott
I finished Rotherweird not entirely certain I fully understood everything. There were certain things, like who Gregorious Jones actually was, that I was sure I'd worked out at one point only to have forgotten. And then there were things that were probably meant to be left unanswered to give Andrew Caldecott something to write about in the sequel. So it wasn't quite as satisfying as a good murder mystery, but I've heard good things about the sequel so perhaps that's not something that should hold anyone back from reading this.
As editor of a puzzle magazine, I have to give a shout-out to the inclusion of crossword clues and crossword creating. You don't get to see that too often in media: the only examples I can think of are All About Steve (which is ludicrously unrealistic) and The Imitation Game. Rotherweird didn't do anything egregiously wrong, so I'll give it the crossword-editor seal of approval!