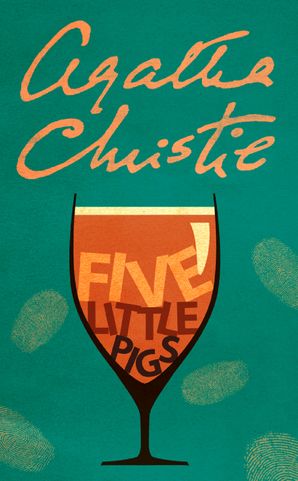 My mum introduced me to Agatha Christie as a preteen in the form of audiobooks. We were driving in Oman, probably coming back from a camping trip, and I very clearly remember her pausing Motive v. Opportunity – one of the Thirteen Problems – at the moment before the solution is revealed to ask me what I thought. Of course, I had no idea! But from then on, I would borrow all her books on tape, which were mostly of the BBC radio adaptation.
Later, when she discovered Audible, I'd borrow her iPod during summer holidays and listen to the unabridged editions of the same stories. And eventually, I got my own account, which has, at current count 24 Agatha Christie titles.
It's safe to say I'm familiar with almost all of the novels and short stories. But I've only read very few of them. Including Five Little Pigs, I could count the number on one hand.
"It's psychology that interests you, isn't it? Well, that doesn't change with time. The tangible things are gone – the cigarette end and the footprints and the bent blades of grass. You can't look for those anymore."

Five Little Pigs, Agatha Christie
Five Little Pigs is probably the Agatha Christie novel that I, personally, think is the cleverest. I always enjoy the ones where the murder happened a long time ago, because – as Agatha Christie herself points out – they showcase the methods of Hercule Poirot and Miss Marple very effectively. These aren't, by and large, detectives who hunt around for physical evidence, and I would be a lot less interested if they were!
As is hinted at in the title, Five Little Pigs is written in the form of five interviews with witnesses, followed by five written statements by those witnesses. And despite the fact that all ten of these go over broadly the same ground, it never feels repetitive! I really can't over-emphasise how cleverly this novel is constructed. Each witness has gaps in their recollection, some of which will be filled in by subsequent accounts, while some of the outright contradictions between statements prove to be vital to solving the mystery!
How would he, Hercule Poirot, have seen her?
On the answer to that question depended, he felt, the success of his quest.
So far, not one of the people he had seen had doubted that, whatever else she was, Caroline Crale was also a murderess.

Five Little Pigs, Agatha Christie
To see every character from five different perspectives is a fairly unique thing in crime fiction, as far as I'm aware. And as someone who values character, it's really fascinating. It's no surprise to me that Five Little Pigs was very highly ranked by podcast All About Agatha.
Five Little Pigs is truly a firm favourite of mine. On the whole, I think I prefer Miss Marple to Hercule Poirot, but it certainly didn't hurt that I had John Moffat's familiar voice reading certain lines in my head as I enjoyed this novel!