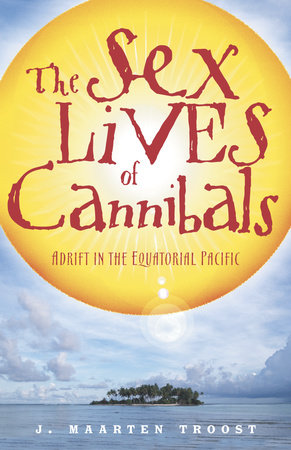 I dimly recall finding The Sex Lives of Cannibals funny the first time I read it. This time, I was mostly annoyed by J Maarten Troost's self-declared lack of work ethic. Over two years leaving on an equatorial atoll, he claims he wanted to write a novel, and yet no novel was written. Perhaps I was primed for annoyance, having already wanted to tick off Osborne in Wives and Daughters for finding a life of work so completely impossible.
On the positive side, I still found The Sex Lives of Cannibals interesting. Most types of travel writing, I assume, make readers want to actually visit the places described. Certainly, that's been my experience with Bill Bryson and Michael Boothe. But J Maarten Troost makes it abundantly clear that living in Kiribati is awful. The food situation is dire, the heat is unbearable and even the occasionally mentioned moments of vivid colour do not make it seem like a holiday to Kiribati would be fun.
Evening light descended, and as we walked through the village the air itself began to assume pink and blue hues. The dinner hour approached and fires were lit and the smoke settled over the village as a fine mist, capturing the soft light of sunset.

The Sex Lives of Cannibals, J Maarten Troost
And yet, despite all this, The Sex Lives of Cannibals is light, easy reading. While I probably won't seek out more books by J Maarten Troost, if I were given one (as I was given this one, actually), I wouldn't throw it away unread!
When it comes to naming things, vanity and flattery are dull motivations best suited for deciding on a child's middle name. Much more interesting are the descriptive names that suggest a story or happening of interest. Captain Cook was pretty good about this. From him, we have Cape Good Success, Cape Deceit, Cape Desolation, Adventure Cove, Devil's Basin, Great Black Rock and Little Black Rock, all in Tierra Del Fuego, names that suggest that rounding Cape Horn in the late eighteenth century was probably a fairly up and down experience.

The Sex Lives of Cannibals, J Maarten Troost
Incidentally, the cannibals of the title are not humans but dogs. Even knowing this, I had to seriously consider whether 'The Sex Lives of Cannibals' was a title I felt comfortable telling my new team-member Caitlin that I was reading this week!