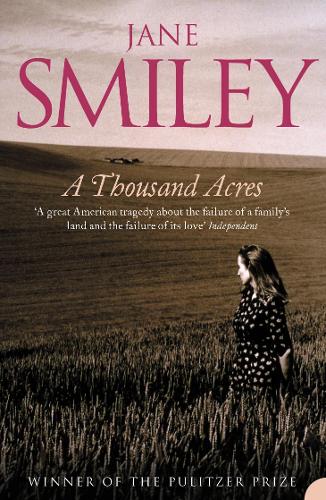 I first read A Thousand Acres as part of an English Literature module on American Literature. If I remember correctly, it was the only book on the course that I could remotely stand, but before rereading it, I had absolutely forgotten quite how dark it gets! I've never seen or read King Lear, on which at least the premise of A Thousand Acres is based, so I can't speak to whether the original play takes the same kind of twist.
On this reread, it took me some time to get into the story. I was reading an old university copy, littered with my notes from the time, and it was hard not to think analytically about everything that was happening. I did, eventually, get caught up in the plot and, as I mentioned, was taken aback by the twist. Once I got past wanting to analyse everything, the prose was compelling, drawing me quickly through the plot as it developed.
On the other hand, perhaps she hadn't mistaken anything at all, and had simply spoken as a woman rather than as a daughter. That was something, I realized, that Rose and I were pretty careful never to do.

A Thousand Acres, Jane Smiley
The characters and their relationships are definitely the best part of A Thousand Acres. We're given a great sense of what it is to be Ginny, to have lived in the kind of farming community that Jane Smiley captures on the page. Almost everyone ends up hurting Ginny in some way, and I felt for her every time. The story isn't a happy one, but I didn't really need it to be. It felt realistic and every new twist felt earned.
The fact is that the same sequence of days can arrange themselves into a number of different stories.

A Thousand Acres, Jane Smiley
The setting, as well as Ginny's relationship to her father, reminded me of Salt Creek. There's just something fascinating to me about that combination of overpowering nature, a challenging rural life and a frightening patriarchal figure. I think, if you enjoyed Salt Creek as much as I did, you should definitely give A Thousand Acres a go.
I can definitely see why I kept hold of A Thousand Acres through at least five moves! I've added Jane Smiley to my list of authors to investigate as I'm curious to see what else she might have written.