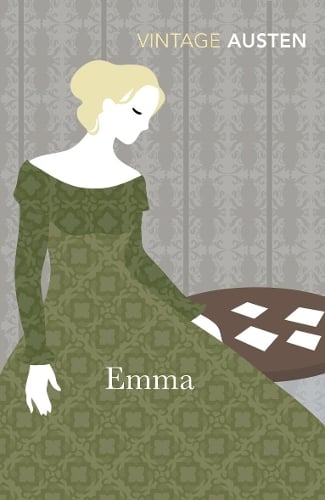 As someone who loves character development, it's probably not surprising that Emma is my favourite Jane Austen novel, out of the ones I've read, anyway. 'Character grows from selfish, spoiled child to empathetic woman' is probably my absolute favourite development trope, and that's certainly the broad outline of Emma Woodhouse's arc, with some romance thrown in.
I find Emma's faults particularly relatable. She lacks the consistency to devote herself to practice, and so her skills are never as good as she feels that they should be. Not only that, but what young woman hasn't deceived herself as to the signs that somebody else is interested in the relationship she wishes that they were? In Emma Woodhouse's case, it's made even more cringe-worthy by the fact that all her incorrect assumptions about people's behaviour end up making life more difficult for others far more than for herself.
'No. I think, Miss Woodhouse, I may just as well have it sent to Hartfield, and take it home with me at night. What do you advise?'
'That you do not give another half-second to the subject.'

Emma, Jane Austen
Jane Austen's comic characters in Emma are every bit as good as the inestimable Mrs Bennet, and I think definitely funnier than anything you'll find in Sense & Sensibility. Humour is subjective, of course, but I laughed out loud a few times, which is pretty impressive for a book written over 200 years ago!
The obsession with people marrying within their social rank is a little troubling for a modern reader. It's hard to get behind Mr Knightley's objections to Harriet on the grounds that she's 'too low', and it's especially galling that, although Emma argues against these at first, she ends up agreeing by the conclusion of the novel. That, and Mr Knightley's having been in love with Emma since she was 13 (and he was 29), are truly the 'stuck in its time' elements, to steal a phrase from the great All About Agatha. I can definitely see how readers would be put off by this, even if they can make it through Emma's deliberately flawed personality.
Mr Knightley somewhat redeems himself in my eyes, however, by being the one person who'll tell Emma hard truths about herself. In a novel that's all about character development, it's hard to imagine a more attractive suitor than the one who sees your faults, will help you overcome them, and love you for the efforts you've made! That's true love right there, as I'm sure both he and Emma would agree.