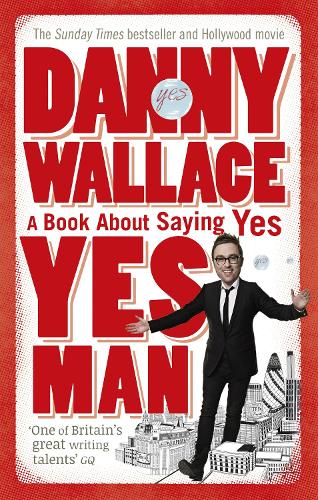 It's been a long time since I last read Yes Man, but it's had a lasting impression. In the intervening years, I've picked up every Danny Wallace book that happens to have come across my path. (At a quick count, that's at least three other titles which I'll get around to reviewing one of these days.) I've liked them all, but none of them have made me laugh like Yes Man did. Now that I'm so much older, I did worry that it wouldn't have the same effect, but I'm glad to report that it did.
Let's face it – there was no way in the world that Lizzie could think I was serious. I was a drunk man, suggesting she take a train – a train! – from Australia, on the basis that Edinburgh was 'good' because it was 'big and funny and loadsa people'.

Yes Man, Danny Wallace
Yes Man made me laugh out loud several times, but the book isn't just a comedic autobiography, though that was certainly what I remembered about it. It surprised me, this time, by also being a genuinely touching love story, and a satisfyingly tricky whodunnit. (I was convinced I was right about that, and when I turned out not to be, the clue was right there all the time!)
"Why are Germans phoning you up under the impression that you're a three-man teenage boyband? Because I've known you for a while, now, and you are nothing like a three-man teenage boyband —"

Yes Man, Danny Wallace
And Danny Wallace's quest to say 'yes' to absolutely everything also made me think about the 'yes'es in my own life. There haven't been too many of those this year, what with working from home and social distancing rules preventing me from traveling to see my friends, none of whom live close enough for me to walk to. Still, I was able to find some, which added a nice uplift to my mood.