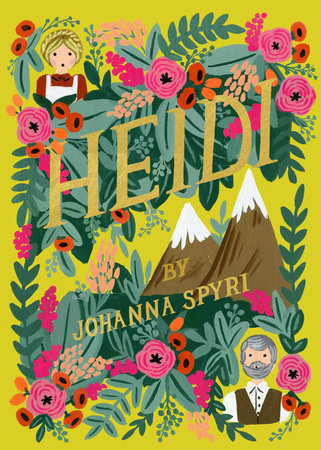 Heidi is another of those girlish children's classics that I still love, perhaps a little more than Pollyanna but less than What Katy Did. Even though I can see that they're a little preachy — and Heidi, in particular, is specifically God-related in its moralising — I still enjoy the simple stories of a special child who comes to make such a difference in everybody's life.
Grandfather carries the bulk of the character development, everybody else stays more or less the same in terms of personality, though both Clara and Heidi learn new skills. The characters don't necessarily feel that deep, but I do enjoy the little glimpses that we get of them. Only Dete and Miss Rottenmeier come off badly, and as an adult, I have at least some sympathy for both of them.
Soon the uncle appeared with the steaming milk, the toasted cheese, and the finely-sliced, rosy meat that had been dried in the pure air.

Heidi, Johanna Spyri
It's the little things that stand out to me: Grandfather making Heidi her own stool once he realises that the ones he has are too big for her, the Doctor enjoying his outdoor meal of cheese and bread and meat more than anything else he's eaten, Heidi and Clara sharing their hay bed when she comes to visit and, of course, the soft white rolls for Peter's grandmother.
"Oh, Heidi!" Clara exclaimed, "I can see so many glittering stars, and I feel as if we were driving in a high carriage straight into the sky."

Heidi, Johanna Spyri
Reading this now, the way Clara's family come in and fix everything by giving everybody money is a little problematic. They mean well, but it feels a little too perfect too quickly. It doesn't take away from the story as a whole, but it did make me wince.
Overall, the descriptions and the emotional impact definitely make this a book worth revisiting every few years!
While Heidi and her grandfather were on their homeward path, the peaceful sound of evening bells accompanied them. At last, they reached the cottage which seemed to glow in the evening light.

Heidi, Johanna Spyri