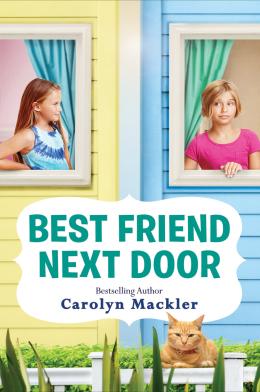 Best Friend Next Door is one of those books I don't remember acquiring. For me, this happens more with e-books than with physical editions. My e-reader (Wendy) hosts a variety of titles that I picked up at some point and which I have no clear memory of. Among those, several are by Carolyn Mackler. While I've enjoyed some things she's written, the number of titles is a perplexing, which is why I decided I'd better start reading & reviewing them so that I can move on to other authors.
I'm not usually such an optimist, but I'm going to act like one until Emme's ready to be one again.

Best Friend Next Door, Carolyn Mackler
The other Carolyn Mackler books that I've read have all been Young Adult titles. I was curious how she'd handle younger characters. I found Hannah and Emme and all their similarities to be a little grating, so was quite pleased when part of the conflict was over them coming to like different things. This wasn't delved into in any great depth, but it still felt realistic and interesting.
Yesterday Hannah said that leaving Sophie's smiley face on the wall was so me. And Lessa said to be myself. But here's the thing: I honestly have no idea what or who I am anymore..

Best Friend Next Door, Carolyn Mackler
As a person with a history of being the friend who moves away, I felt for Sophie, especially as she seemed to completely disappear from the middle of the novel. Of course, as soon as I'd articulated that thought to myself, Carolyn Mackler brought her back and tied her neatly into the plot. She didn't have as much of a personality as the main characters, but I was glad that she hadn't been forgotten entirely.
Best Friend Next Door was pleasant, but it didn't grab me. That may be partly to do with not being the target audience, and having no history of reading this book when I was, but I think it also has to do with not gravitating towards these types of characters or these types of stories. I'm not sure I would have felt any more strongly for this book as a child than I do now.