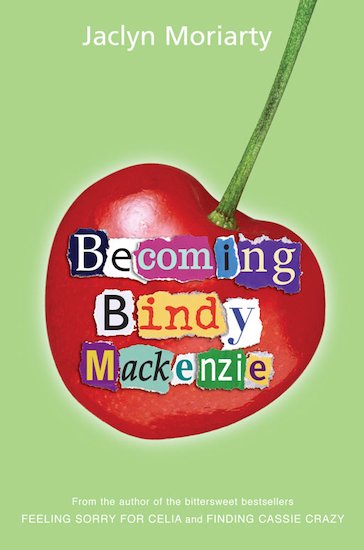 In Jaclyn Moriarty's Ashbury/Brookfield series, it's quite a leap from Feeling Sorry for Celia to Finding Cassie Crazy in terms of the complexity of the plot and the depth of the characters. The jump from Finding Cassie Crazy to Becoming Bindy Mackenzie is bigger still. In the US, it was published as 'The Murder of Bindy Mackenzie', which gives you some idea of the dramatically higher stakes compared to the earlier books.
Unfortunately, it only partly works, at least for me as an adult reader. As far as I remember, when I read it closer to Bindy's age, I really loved it, but at 34 the entire 'murder' plot feels unrealistic and also… uneccessary. There is more than enough going on in Becoming Bindy Mackenzie; the book doesn't need a criminal gang of adults (who are, incidentally, almost as inept as the cast of teachers and parents).
I don't know how I'm going to tell Dad. He will be so disappointed in me. I know it.
But he could not be as disappointed in me as I am in myself.

Becoming Bindy MacKenzie, Jaclyn Moriarty
What Jaclyn Moriarty does exceptionally well is Bindy's character arc. Like Emma Woodhouse, Bindy starts the novel extremely unlikeable — in a peculiarly relatable way — but develops from there. Now that I no longer find these books as hysterical as I once did, the set-up section did feel a little long, but the look into Bindy's history, and the way it explains why she is the way she is (without her first person narration ever being aware that's what she's doing) is really effective.
Emily Thompson may be many things, but, above all, she is loyal, determined and brave.
Imagine if she were my friend.

Becoming Bindy Mackenzie, Jaclyn Moriarty
As in the other two Jaclyn Moriarty books I've reviewed, all the other teenage characters are also well drawn, despite Bindy's initial insistence on hating them all. Everyone (bar some of the adults) is a fundamentally good person, and that's really nice. Reading about their developing friendships is the reason I sped through Becoming Bindy Mackenzie extremely fast, without even looking at the page numbers or realising when I was starting a new chapter.
Overall, I'd position Becoming Bindy Mackenzie as my second-favourite of the Ashbury/Brookfield series. There's a lot to like, but the thriller plot doesn't fully work for me.